Project to House Homeless Veterans
Veterans Transition Center cuts ribbon on 16 new homes for Vets Constructed by PRS
CREDIT KSBW Action News 8
(http://www.ksbw.com/article/want-to-help-name-aprils-baby-giraffe-it-will-cost-you/9518637)
MARINA, Calif. —
On Friday the Veterans Transition Center cut the yellow ribbon on 16 new housing units for homeless veterans in Monterey County.
The complex is called the Monterey Quad because the City of Monterey funded the $600,000 project with its Community Development Block Grant funds.
The homes sit on the former Fort Ord and were crumbling old military housing until VTC came in and cleaned them up.
"We took these from the ground up, plumbing, foundations, all the way up to the roofs, and turned them into long lasting homes," said J Fagan with the VTC.
VTC's mission is to provide services to Monterey County's homeless vets, getting them off the streets back to work.
On Friday after the ceremony the first keys to a unit in the Monterey Quad were handed out to a veteran and his family.
"It blew me away, it blew me away," said David Hill who said receiving the keys was a surprise.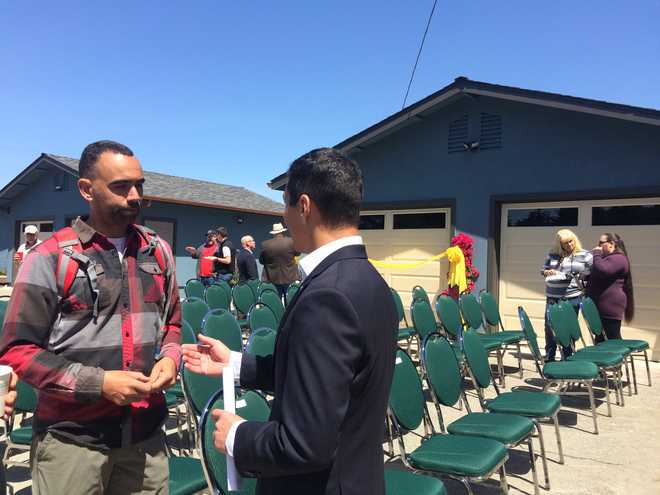 David Hill speaking with the VTC's Jack Murphey
Hill is a veteran, a former marine who served his country and a man who found himself homeless.
"When it happens to you, you don't know how to explain the situation to your kids, and even make sense of it yourself," he said.
After leaving the Marine Corps Hill started his own carpet cleaning business in Monterey.
Hill named his business Bow Tie Carpet Cleaners and he would wear a bow tie while cleaning carpets so customers would remember him. He said it was something he was good at and he and his wife poured everything they had into the business.
Things were going well, but then his specialized service broke down and he couldn't afford the repairs.
Hill started to lose his big accounts and eventually had to close up all together.
"Losing your business you lose your identity a little bit, I put everything into that business, when that left I kind of thought, what am I going to be good at now," he said.
After losing his business he and his wife lost their home and had to move into the service van along with their two children. Just when it felt like things couldn't get any worse, vandals spray painted his van adding to the expense of fixing the vehicle.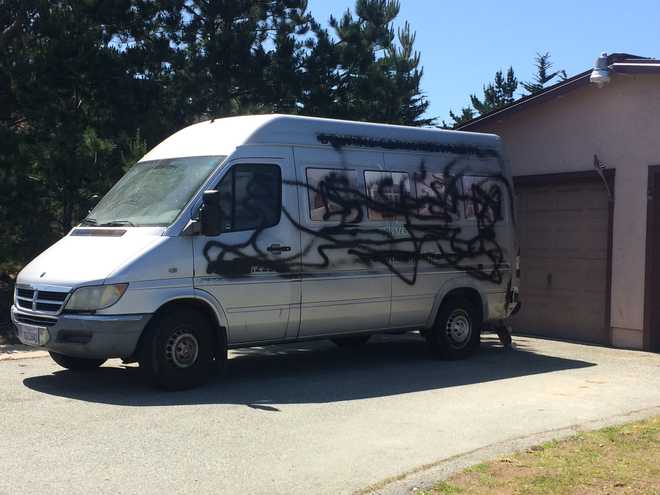 Hill estimates it would take at least $5,000 to repair his van in its current condition
Hill said the experience was degrading. He recalled a morning when he had to use a wash cloth to clean his son before school because they didn't have a bathroom.
"I remember telling him one morning, 'Remember don't tell anybody that you slept in the van, just don't mention it.' just swallowing your pride to have to tell your kids that when you're trying so hard," Hill said.
It was shortly after that Hill got in contact with the Veterans Transition Center. VTC helped him with his resume, with housing, and with childcare.
The VTC also let Hill know he wasn't alone.
"The issue is massive, our current waiting list at the VTC is over 85 veterans, 15 of those are veterans with families," said Fagan about the waiting list for veterans housing in Monterey County.
The new 16 units in the Monterey Quad brings the number of VTC housing units up to 74.
The units have been landscaped, remodeled, repainted, furnished and have all new appliances. Veterans will be able to live in the homes for little or no cost.
Fagan said the plan is to have the properties rented through the U.S. Department of Housing and Urban Development-VA supportive Program, more commonly known as HUD-VASH. He said veterans are required to pay a rent of 30% of their income, so if their income is $0 so is their rent.
Hill said he never felt like he deserved help but after being homeless he encourages any veteran in need of help to seek services.
"I was not expecting the help that I got, I can understand helping a veteran, but the way they treat my family it's as if my wife had served as well," he said.
In addition to getting a new home on Friday Hill also got a new job. The general contractor on the housing project, Property Restoration Services, offered him a position and he starts Monday.
"I would have done it before if I knew he needed it, " said Ronnie Petitt, general manager of PRS who is also a veteran.
VTC wants to refurbish more military housing on the former Fort Ord and build what they are calling Lightfighter Village. It has plans for 71 additional units and Fagan said the permitting used for the Monterey Quad is good for those units as well, it just needs to find the funding.
Water & Flood Restoration

Our Institute of Inspection Cleaning and Restoration (IICRC) and OSHA certified technicians have the expertise, experience and, above all, empathy for homeowners who have experienced disasters.

24 Hour Emergency Response

In an emergency, our team is available 24/7/365 to help you. Just call 831.375.4777 for immediate help. We understand the difficulties experienced as a property owner when dealing with the effects of disaster and emergency situations. We are here for you when you need us.
Get social with us
Click below to follow us on social media
Proudly Serving California & Texas
PRS Restore, Repair, Remodel and Construction services is available throughout California & Texas. As a Disabled Veteran Owned Business, PRS offers restoration, repair, remodel and Construction services to residential, commercial, industrial and agricultural industries. Contact us today at 831.375.4777 or 713.906.0909.